The Kroger Company is a chain of American grocery stores that are one of the largest supermarket retailers in the United States. Earning billions of dollars in sales each year, Kroger's is one of the most recognized names in the grocery store industry. One of the primary reason that Kroger stores have gained and maintained such popularity is because of their multiple money saving options. The locations offer reward cards that provide customers with unique discounts, access to coupons, and provide multiple opportunities for shoppers to save money. In addition to saving money on groceries, shoppers are also given the opportunity to save money on Kroger flowers that are perfect for any occasion.








Kroger Flower Occasions
Kroger prides themselves on offering a floral arrangement for any occasion. In addition to the traditional Valentine's Day and romantic flower options, Kroger flowers can be purchased to celebrate the birth of a new baby, to commemorate an anniversary, or more. Each Kroger floral arrangement is customized to feature a unique selection of flowers and many include a vase for convenient long term storage. Kroger flowers can also be purchased in larger quantities for weddings and other major events that require a large amount of fresh flowers.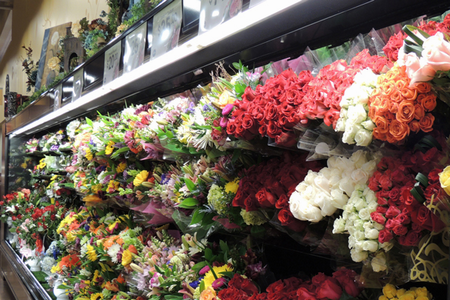 Kroger Flower Prices
Kroger flower are some of the most affordable priced supermarket flowers available. When talking about Kroger flower prices we should start with their small bouquets of garden roses priced at $9.99 for one dozen small roses. Larger bouquets featuring a mix of in season blooms such as carnations, daises, and lilies are also $9.99. Kroger floral arrangements can also be custom ordered for centerpieces, bride bouquets, and more. With their discount pricing on bulk orders 200 red roses cost approximately $150.00. If you need a Kroger floral arrangement that includes a vase, a bouquet of flowers that comes with a vase starts at just $29.99.





| Flower Type | Price |
| --- | --- |
| Roses | $43.99 - $88.99 |
| Mixed Fresh Cut Bouquet | $39.99 - $69.99 |
| Seasonal Arrangements | $29.99 - $65.99 |
| Birthday | $39.99 - $63.99 |
| Anniversary | $43.99 - $78.99 |
| Valentine's Day | $33.99 - $83.99 |
| Baby | $39.99 - $53.99 |
| Thanks | $43.99 - $68.99 |
| Get Well | $39.99 - $63.99 |
| Sympathy | $44.99 - $403.99 |
| Live Plants | $39.99 - $103.99 |
| Just Because | $43.99 - $68.99 |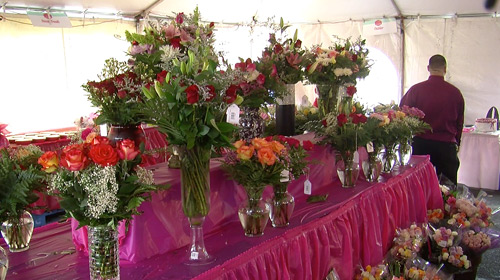 How to Purchase Kroger Flowers
Kroger flowers can be purchased in your nearest store during normal business hours (typically until 9:00pm at 24 hour locations) and all flowers are freshly delivered throughout the week. The Kroger staff is able to take orders for larger events at the Kroger location or over the telephone. When purchasing flowers for a large event such as a wedding you might need to talk to a manager to ensure your quote is accurate and that the location will be able to prepare your order in a timely manner. For more information about Kroger flowers click HERE.