Founded in 1919, the first Tesco was a small grocery store that specialized in selling surplus war groceries to the general public. As the grocery store gained popularity and a loyal following it eventual expanded to a small self-service grocery store that became the first supermarket in it's particular area. Growing organically over the years, Tesco became one of the largest grocery store chains in Europe and since the 1990s Tesco has offered a wide variety of non-grocery items. In addition to selling books, toys, furniture, and software; Tesco sells a variety of flowers that are a budget friendly solution for all of your floral needs.








Tesco Flower Occasions
Tesco flowers are perfect for birthdays and other small family celebrations. All Tesco locations specialize in providing the perfect flower arrangement for anniversaries, engagements, and other intimate holidays that are made special with flowers. The Tesco floral department also has several affordable arrangements featuring seasonal flowers and affordable blossoms that are perfect for any budget. Tesco flowers can also be used to decorate your home with freshly cut flowers and unique vases.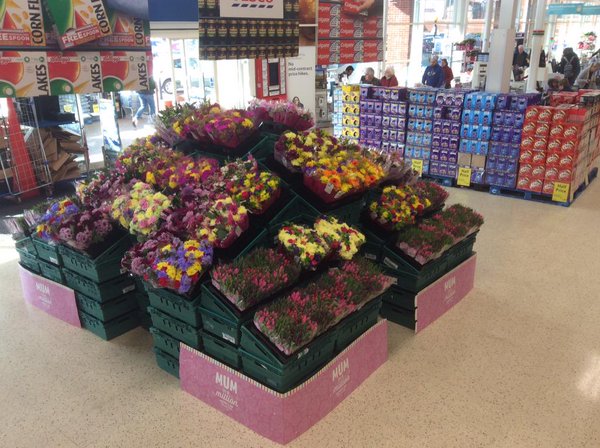 Tesco Flower Prices
Tesco flower prices are extremely affordable with a bouquet of sunflowers starting at just £15.00. Other bouquets including yellow roses, white roses, red roses with white chrysanthemums, and other mixed flower arrangements are only £20.00. For £25.00 you can purchase an arrangement of pink roses and gypsophilia or other combinations of flowers with a lovely jug vase. Classic oriental lily bouquets start at £30.00 and elegant long stem rose bouquets are £35.00 to £45.00.





| Flower Type | Price |
| --- | --- |
| Roses | £20.00 - £45.00 |
| Chrysanthemums | £20.00 - £30.00 |
| Mixed Bouquets | £20.00 - £35.00 |
| Seasonal Bouquets | £30.00 - £35.00 |
| Anniversary | £20.00 - £45.00 |
| Congratulations | £20.00 - £35.00 |
| Birthday | £20.00 - £35.00 |
| Thank You | £20.00 - £35.00 |
| Live Plants | £3.50 - £29.99 |

How to Purchase Tesco Flowers
Fresh flowers can be purchased from your nearest Tesco during your next shopping trip. The Tesco floral department staff will help you choose the best flowers for your needs and will offer suggestions if you are not sure what type of flowers will be best for your event. Tesco flowers can also be ordered online with free next day delivery available. When ordering online you can personalize your flower delivery by adding a message and sending the flowers in an elegant presentation box. To learn more about Tesco flowers click HERE .